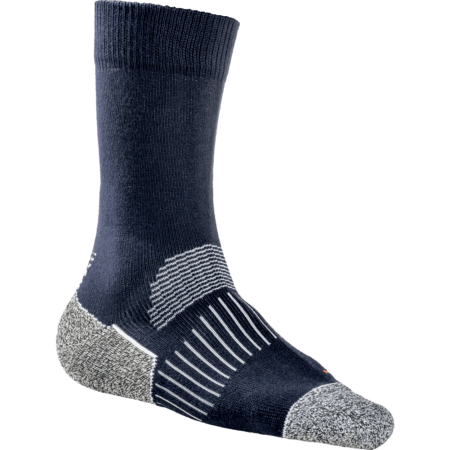 All seasons cotton
The natural fibers in the Bata Industrials All Seasons will always offer the most comfort to your feet. The wool has a uniform temperature to the skin, holds 30% moisture without feeling wet and is elastic and dirt resistant by nature. Special zones in every All Seasons sock guarantee perfect fit and comfort. Your feet are safe and protected, supported in the right areas and perfectly comfortable.
We have developed socks that have extra protection zones all over the sock, to protect your feet and prevent injuries. The separate zones can be seen on the extra image. The comfort board is super elastic; to make sure it is not too tight on your leg. The leg support is created by giving the sock extra strength; this helps to keep your leg in the right position. The ankle protection is created by having extra thickness inside the sock; this helps to prevent injuries like blisters by keeping the ankle from scraping across the inside of the shoe.
The Achilles protection is a zone which is extra flexible, but still strong; to protect the Achilles from any injuries. The heel protection is antibacterial, to improve the health of your feet. This fabric is also extra thick to protect the heel area from injuries.
The arch area is designed especially to create extra support for the feet. In this area, the fabric is a bit tighter than in the rest of the sock, like the fabric in the Achilles protection. The Flex fit is designed with thinner and more flexible yarn; this prevents the sock from crumpling which creates more comfort.
Characteristics
You may also like…
Provides high quality support, cushioning and comfort Supports the forefoot arch in its natural position Relieves the tendons and joints in the forefoot Reduces forefoot pain and prevents tired feet Developed in collaboration with our partner Podolab Hoeksche Waard

EVA sole. ESD. Made up of thousands of air bubbles, feather-light, flexible and shock-absorbent. High quality support
POLIYOU® sole with mesh top layer: breathable, antibacterial, ESD, shock and moisture absorbing, odor control. Cool and dry
Strong arch support. Relieves the tendons and joints in the foot arch. Prevents injuries
Extra forefoot support keeps the feet in the natural position. No tired feet
Medical support. Developed with Podolab Hoeksche Waard. Supports in a podotherapeutic way. Helps solve foot problems

Our Medical Fit

inlay soles

offer a wide range of solutions to foot problems. Medical Fit Forefoot is specially designed to help solve forefoot problems by supporting in a podotherapeutic way and bringing the foot back to a neutral position. Offers outstanding shock absorption (+++) and support (+++++). Click

here

to discover for which safety shoes Medical Fit Forefoot inlay soles are suitable to ensure that your safety shoes stay perfectly certified.