SUMM+ is a collection of high-resistance safety shoes that combine safety, durability, and comfort, but never compromise on style
The SUMM+ collection features lightweight, stable and slip resistant models. Designed with an eye for Italian style, these safety shoes look stylish and keep your feet protected even in the toughest work conditions. From leather to technical nylon, all materials in SUMM+ reflect their superior performance in extreme conditions.
Discover our brand new SUMM+ collection here
Safe, durable and comfortable
Shoes in this collection not only have a high standard of abrasion resistance, they are also lightweight, flexible and breathable. For ultimate grip, the TPU-outsole provides the highest level of SRC slip resistance. SUMM+ also features an aluminum toecap and FlexGuard® composite penetration resistant insert.
Highly functional but always in style
Both high-tech and classic high-quality materials combine to make the SUMM+ collection multi-functional, comfortable and sophisticated. A closer look reveals the technology: the increased profile surface of the PU/TPU-sole offers optimal slip resistance and the angled heel offers high stability on the job while giving the shoe a sporty look. The collection also features a Premium Fit inlay sole for greater comfort, shock absorption and stability. Plus, every SUMM+ model is EN ISO 20345:2011 certified and ESD.
Safety + durability + comfort + style = the SUMM of everything you need in a safety shoe.
Comfort
The Premium Fit inlay sole features a mesh top layer. The POLIYOU foam technology provides outstanding breathability, shock absorption, and antibacterial and moisture-absorbing properties. Special zones provide support and stability, with added shock absorption for improved energy. Designed for maximum comfort.
Stability + grip
To guarantee optimum stability, our designers chose a PU/TPU-sole with an extra-angled heel. While the majority of safety footwear comes with heels angled between 0-3 degrees, SUMM+ safety shoes are angled at 8.39 degrees. In addition to increased balance and stability, a larger profile surface means the outsole has more ground contact and, as a result, optimum slip resistance.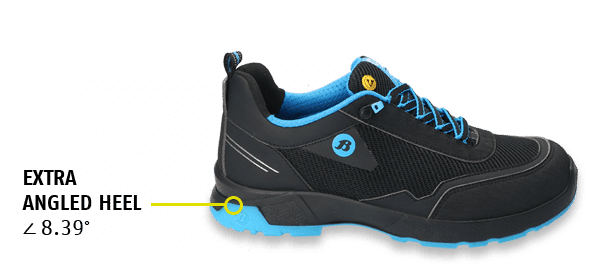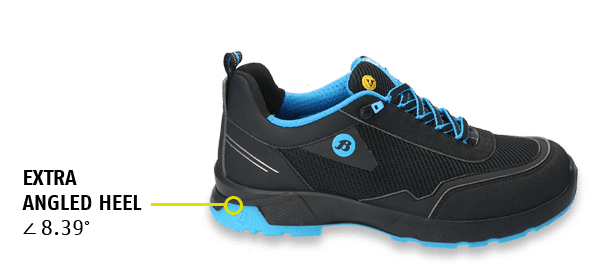 Materials
SUMM+ upper materials have unique features suitable for specific needs and applications. But they all have one thing in common: the perfect blend of safety, durability, comfort and style.
Technical nylon – SUMM+ ONE + TWO
Strong and flexible high-tenacity technical nylon.
Full grain leather – SUMM+ FIVE
Full grain leather is the highest quality grade leather, it's the strongest and most durable.
Microfiber – SUMM+ SIX
Abrasion resistant and easy to clean and maintain.
PUTek® – SUMM+ SEVEN
This durable material is 10 times more abrasion resistant than standard nylon. It offers excellent protection whilst remaining ultra-light and flexible.
BOA® Fit System
Dial in to fast, effortless, precision fit.
The BOA® Fit System gives you the freedom to dial in fit. Every configuration is purpose-built for performance using three integral parts: a micro-adjustable dial, super-strong lightweight laces, and low-friction lace guides.
Durable quality, guaranteed.