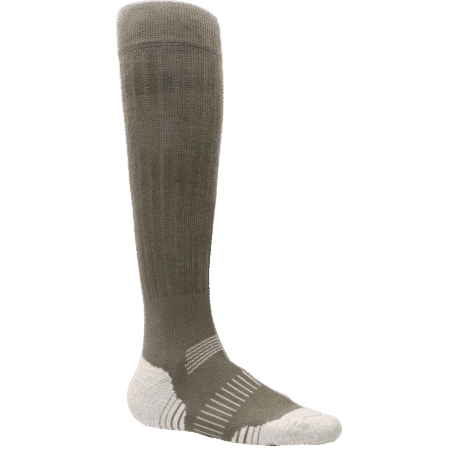 Anti Bug
The Anti Bug is an anatomically shaped long sock made from cool cotton and cellulose with Cell Solution® Protection fibers. The sock protects feet and lower legs against nasty ticks and mosquito bites and even more importantly against the infectious diseases related to these bites.* Thanks to the antibacterial silver, even unpleasant odors don't stand a chance. The perfect sock for anyone working outdoors.
The Anti Bug sock has been tested and approved according to the German army guidelines TL8305-0331.
Cell Solution® Protection is a patented technology in which the insecticide permetrin is integrated in the fiber. It paralyzes and kills insects.
Suitable to be worn directly onto the skin.
Effective up to 100 washes.
*Wearing Anti Bug socks does not offer a 100% guarantee against ticks and mosquito bites. It remains important to check your body and clothing for ticks after coming indoors.
Characteristics
You may also like…
Provides high quality support, cushioning and comfort Supports the forefoot arch in its natural position Relieves the tendons and joints in the forefoot Reduces forefoot pain and prevents tired feet Developed in collaboration with our partner Podolab Hoeksche Waard

EVA sole. ESD. Made up of thousands of air bubbles, feather-light, flexible and shock-absorbent. High quality support
POLIYOU® sole with mesh top layer: breathable, antibacterial, ESD, shock and moisture absorbing, odor control. Cool and dry
Strong arch support. Relieves the tendons and joints in the foot arch. Prevents injuries
Extra forefoot support keeps the feet in the natural position. No tired feet
Medical support. Developed with Podolab Hoeksche Waard. Supports in a podotherapeutic way. Helps solve foot problems

Our Medical Fit

inlay soles

offer a wide range of solutions to foot problems. Medical Fit Forefoot is specially designed to help solve forefoot problems by supporting in a podotherapeutic way and bringing the foot back to a neutral position. Offers outstanding shock absorption (+++) and support (+++++). Click

here

to discover for which safety shoes Medical Fit Forefoot inlay soles are suitable to ensure that your safety shoes stay perfectly certified.